If your doubt is to know how to get to Bonitoin the state of Mato Grosso do Sul, Roteiro Bonito MS has the solution. We have made a list of options for you to get to Bonito and enjoy the best the city has to offer.
Rich in ecotourism, the Bonito/MS region has incredible Brazilian sights, such as the waterfalls at Boca da Onçathe tour through Mimoso Grotto (Gruta do Mimoso), the activities of the Balneário do Sol and some others that are very worthwhile.
So, before you book your tickets or get a rental car heading to your destination, follow our post today and find out how to get to Bonito the best way possible.
Let's go?
How to get to Bonito, in the state of Mato Grosso do Sul?
There are two ways to get to Bonito: by going to Campo Grande, the capital of Mato Grosso do Sul, or by flying directly to Bonito Regional Airport.
The most practical way, for sure, is to go straight to Bonito, after all, it is also a faster route. However, everything that is faster is also expensive.
For this reason, many people prefer to go from Campo Grande airport to Bonito, even though it is a longer route, but at least it is more economical.
To make everything as clear as possible, we separate each route of how to get to Bonito and enjoy your travel itinerary.
How do I get to Bonito by plane?
As we said in the topic above, traveling to Bonito/MS can be expensive or cheap depending on the arrival option: going direct to Bonito or leaving from Campo Grande.
In any case, you can get promotional airline tickets for both See how to get to Bonito by plane below.
Travel to Bonito/MS by direct flight
Flying direct to Bonito is the fastest option for those who don't want to waste a lot of travel time and, of course, for those who can afford it.
The airlines that fly directly to Bonito are Azul and Gol, and the airport is located 15 km from the city center, accessible by van (R$ 25), cab (R$ 70) or rental car.
If before the frequency of large aircraft was low and therefore much more expensive, it has now become much easier to travel to Bonito - for people from São Paulo.
There is now a new route Bonito-Campinas, with flights always on Tuesdays, Thursdays, and Sundays.
Go to Campo Grande Airport
If you need to save on tickets to enjoy the city from Bonito/MS, you can take a flight to Campo Grandecapital of Mato Grosso do Sul.
The frequency of flights is much wider and departs from most airports in Brazil. Not to mention that it is much cheaper to go to Campo Grande to get to Bonito and then take a shuttle.
How do I get from Campo Grande to Bonito?
You have chosen to take a flight to Campo Grande airport, right? Now you must choose the means of transportation to get to the center of Bonito/MS. The distance is 300 km to the center, while the distance from Bonito airport is 14 km to the same destination.
Check out the following options so you can enjoy Bonito a lot.
How do I get to Bonito by bus?
The most traditional option about how to get to Bonito is to take a bus from Campo Grande bus terminal, with the average price at R$ 75.
This is a common transport, operated by the Cruzeiro do Sul company, with schedules from Monday to Saturday and whose route takes approximately 4 hours to reach its final destination.
The bus schedule is as follows:
Campo Grande to Bonito: 8h, 13h, 16h;
Bonito to Campo Grande: 7h, 13h30, 18h30.
The bus company works on Sundays as well, but the timetable is reduced.
How to get to Bonito by transfer?
At Bonito/MS there is the exclusive or shared transfer service that takes about 4 hours to the central region of the city.
If you prefer to travel from Campo Grande to Bonito via exclusive transfer, there will be fewer stops and a lower cost. This is because this mode is for those traveling in a group or alone and staying in the same hotel.
But if you want to pay much less and, especially, travel with several people who are not part of your group, you can share the transfer van.
The disadvantage is that this type of shared transport makes several stops, which results in more time on the road.
In any case, traveling via traslado from Campo Grande to Bonito it's worth it. Just remember to book your ticket in advance with our specialists, via e-mail or telephone.
How to get to Bonito by rental car?
Those who prefer to rent a car to get to Bonito can do so in two ways: by renting the car as soon as they land at the airport in Bonito, or downtown, for those who land at Campo Grande.
Both ways are more expensive, but it is much more comfortable and advantageous since during the trip the tourists have more access to the beauties of the place, which are more concentrated in the Rural Zone.
In all, it takes about 3 and a half hours to get to Bonito, and you can use BR 060 419, BR 262, as well as other routes that you can follow by GPS: Sidrolândia and Guia Lopes da Laguna. It's worth using Google Maps to better orient yourself!
So if you're renting a car in Bonito, don't forget your camera to capture the best sights, such as the Serra da Bodoquena.
How to get from Bonito airport to downtown
We have already seen how to get from Campo Grande to Bonito, so now let's find out how to get to Bonito from the city's airport.
By cab
Cab prices are fixed and cost R$ 70 to any hotel in the city from the airport at Bonito.
Although many taxi drivers are standing by at the airport entrance, it is always better to book a ride so as not to run the risk of being "stuck waiting for a miracle".
By shared van
As we mentioned, you can also make the trip via airport transfer from Bonito to the city center.
The transfer can be by minibus, bus, or van, and the traveler chooses whether to have exclusive or shared transportation.
Again, if you plan to travel in a group to the same hotel, or are alone, choose exclusive transportation. It is more convenient, makes fewer stops (only one for a meal), and is inexpensive.
But if you are traveling with other tourists, don't hesitate to choose shared van to pay much less, although it faces more downtime.
By own or rented car
An important fact about car rental in Bonito: you cannot rent a car at the airport. Although there are rental company counters there, you just pick up the car in advance.
So if you want to drive around the region, don't forget to rent a car in advance (and use Google Maps), even more so if the lodging is far from the center.
It is much better to arrive from a trip and get the car ready to go.
Best rides in Bonito for quick trips
If you chose to travel directly to Bonito, without a stopover in Campo Grande, it is a sign that your itinerary is short, probably 1, 2, or 3 days. If this is the case and you have made good financial planning, then here are some tips for tours.
Blue Lake Grotto (Gruta do Lago Azul)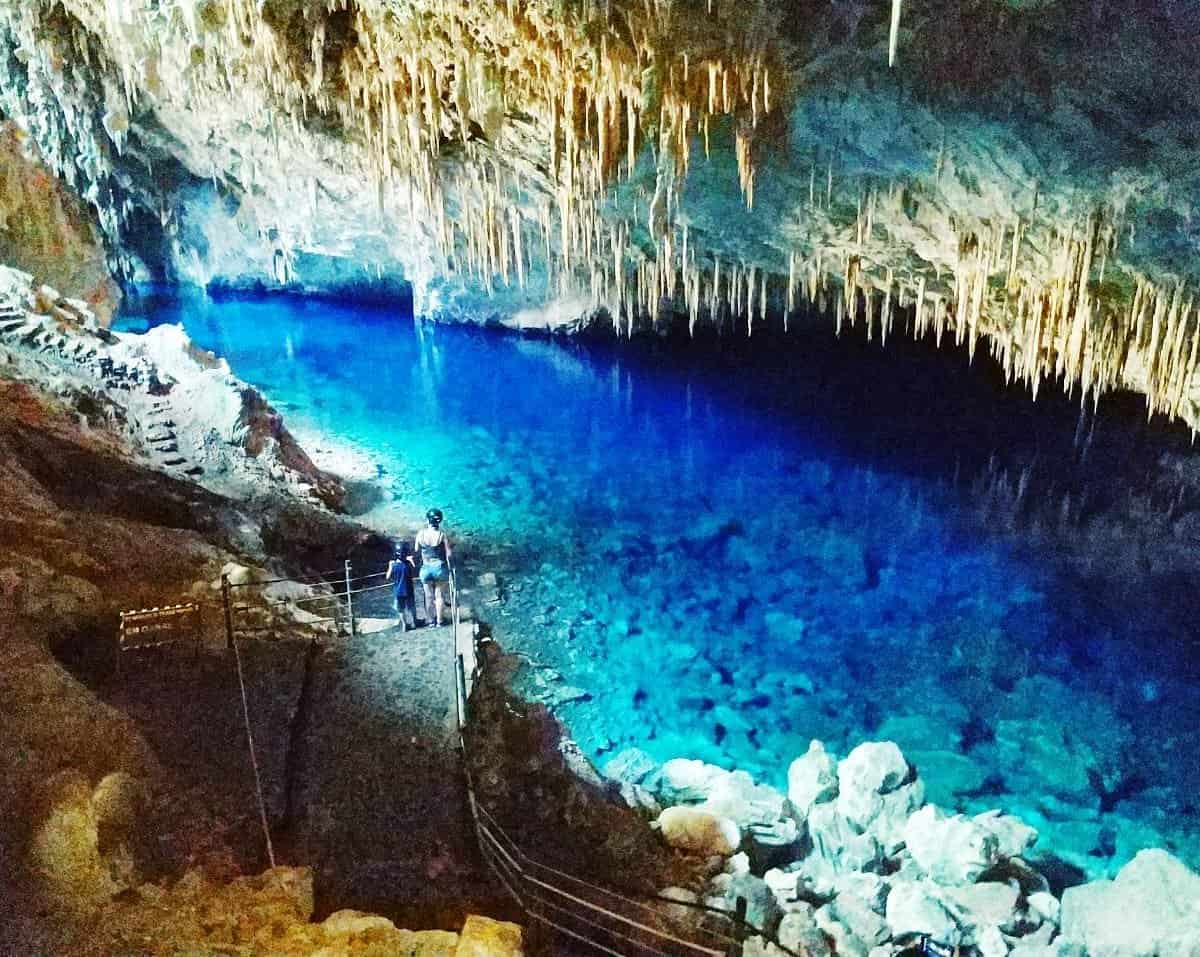 There is nothing more magnificent than visiting a cave with many prehistoric items and crystal clear waters in one of the best postcards of Bonito: the Blue Lake Grotto (Gruta do Lago Azul).
It is impossible to go to Bonito and ignore this cave, because it is so famous - and rightly so.
Mystery Lagoon or Barra do Sucuri
If you already know what is flotationyou should add to your travel itinerary a tour of Mysterious Lagoon (Lagoa Misteriosa) or Barra do Sucuri.
Any of them is perfect for floating in its clear and transparent waters, amidst rich aquatic vegetation. This contact with the region's ecotourism is relaxing and indescribable.
St. Matthew's Grotto (Gruta São Mateus)
A quick tour of Bonito is an opportunity for lovers of history and old things.
It is that in St. Matthew's Grotto (Gruta São Mateus) It not only has beautiful waters and rock formations: there is also the Kadiwéu Museum, with historical items, including a collection of automobiles from the 1970s. Not to be missed!
Balneário do Sol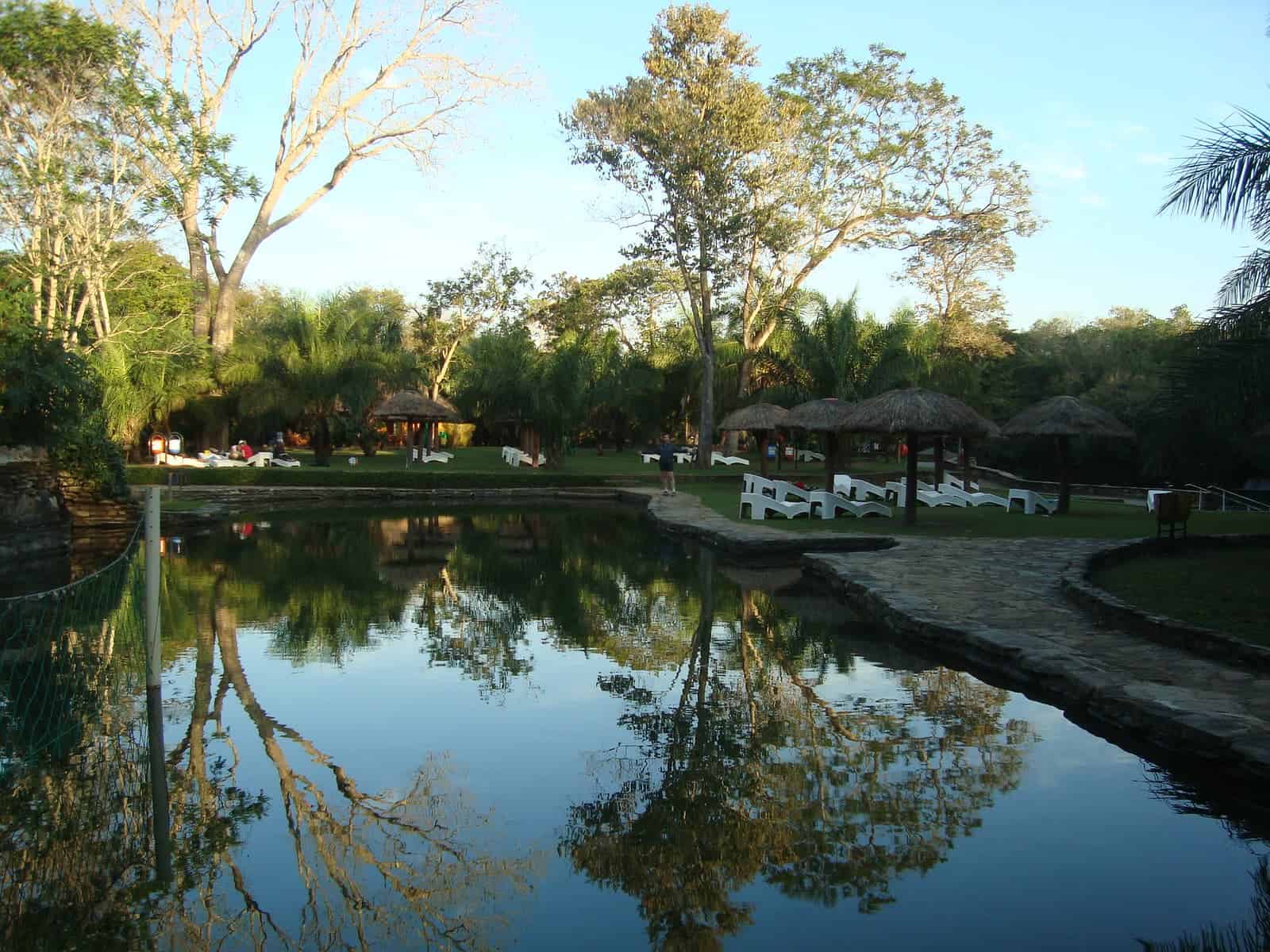 Who goes to Bonito with kids you can include Balneário do Sol in your list of outings to a short itinerary. The place has many activities for the little ones and adults too, such as sand soccer, volleyball, biribol, and giant chess.
In addition, it is possible to take pictures of wild animals and enjoy the great variety of fish at the resort, such as the piraputanga.
Restaurants with typical and international food
Bonito is a city full of charm, with bars and restaurants for all tastes. If you are interested in enjoy the typical fooddon't forget to taste the "pastel de jacaré" or the famous "piranha broth" in some establishments.
The city's variety of fish is also present in the main restaurant dishes, such as the piraputanga, the symbol of Bonito.
But if you can't live without international food, you will find places that serve Arabian and Italian cuisine, for example. You will not go out hungry!
But, after all, how many days is the ideal number of days to visit Bonito?
A 5-day itinerary in Bonito is the best way to get to know the city and its tours. As there are so many natural beauties in one place, the maximum number of attractions to enjoy is two tours per day, so it's not too busy.
There are caves, waterfalls, lakes, trails, wonderful contact with nature, and the best food in town.
If you really want to enjoy this city in Mato Grosso do Sul, be sure to book a 5-day travel package.
After all, what is the best option on how to get to Bonito?
Here we present some options for getting to Bonito: going straight to the city's airport or flying to Campo Grande. In addition, we have added transportation alternatives (cab, transfer, bus, or car).
But the question remains: what is the best way to get to Bonito?
This will depend on your profile as a traveler.
If you want to save on travel to spend on tours around Bonito, one of the most amazing tourism zones in South America, choose to depart from Campo Grande to Bonito.
It can be time-consuming, but you have cheaper transportation options, such as buses and transfers.
Now, if you don't want a quick - and more expensive - trip, you should choose the flights that go direct to Bonito.
All of this will also depend on your travel itinerary: the shorter it is, the faster you want to get there to enjoy the attractions, right?
Take the opportunity to continue your saga in Bonito with Roteiro Bonito MS and discover more must-see tours around the city. Schedule your tours today, by e-mail or WhatsApp, and come to know this paradise!
FAQ
What is the nearest airport to Bonito?
Bonito has its airport, called Bonito Regional Airport. There are direct flights there, so it is much easier and faster to travel to the southern city of Mato Grosso.
How to get to Bonito from Campo Grande?
After landing at Campo Grande airport, you have the option to take a bus, pay for a transfer or go by rental car. Just remember to schedule the vehicle to arrive on site and secure your car for the trip.
How to get from São Paulo to Bonito?
As there is already a flight from Campinas to Bonito, all you have to do is choose the departure times (3h, 5h and Sunday) and secure your air ticket. If you prefer, you can drive from São Paulo and enjoy the view from the cities of Nova Alvorada do Sul and Guia Lopes da Laguna.